Can you give a loving home to a Dalmatian?
Bringing a dog into your life, or adding another dog to an existing family, can be fraught with challenges but very few people would deny that it is well worth the effort.
These pages are not about "a dog" however, they are about Dalmatians and they are a very special breed. OK, OK, I know, we are biased - we have had other breeds though and so we are talking from experience. Here are just a few of the reasons why we believe that every loving home needs a Dalmatian:-
A Family Member - We often talk to people about Dalmatians compared to other breeds and there is one character trait that stands out which we describe as the "default state". If you do not interact with a dog, and there is nothing going on in the house, what will the dog do? For many breeds, the answer would be "go and curl up in a corner and fall asleep" but for a Dalmatian the answer is "wander about and see if there is any trouble to get into". A common refrain in our house is "it's gone quiet, where are the dogs?". They really do become an integral part of the family wandering from room to room looking for family members to interact with and they will pad about behind you when you walk from one room to another paying close attention to what you are doing and trying to join in. You will not simply be getting a pet, you will be adding another proactive family member who will not let you ignore them.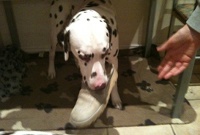 A Playmate - It takes very little to get a Dalmatian to play and they seem to be permanently poised on the brink of jumping up and bouncing around, even when they are sleeping! They will happily play with any other dog breed willing play with them. They will also vary the game from time to time. You won't find yourself throwing a stick over and over again because after a short time, a Dalmatian will think of something else to vary the game. They also love children, who bring the puppy out in them, and they will traipse about after a small child and happily join in with whatever game is being played at the time and curl up afterwards for nap time.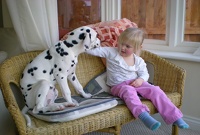 A new set of Hobbies - A Dalmatian can't come go bowling or join in with a rugby match but there are a wide range of activities that they enjoy doing and can become very good at. When we got our first Dalmatian, our focus was on fitting her around our activities. This soon began to change however, as we discovered how many things we could do with her. We began with Showing, which introduced us to a fantastic crowd of people who turn every Dog Show weekend into an excuse to get together, camping overnight or just meeting on the day. Through the Breed Clubs who organise many of the Shows, we learned about Agility and Flyball and Obedience Competitions. We had already started Puppy Classes for basic obedience but extending this into competitive Handling and Obedience was great fun. We also rediscovered a love for long walks in the country, which we hadn't done for years.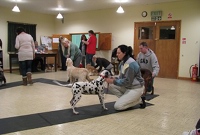 A Training Partner - We were at Crufts, and an organisation called CaniX (Canine Cross-Country) were doing a demonstration run showing how to safely run with dogs. I found myself remembering all the times I'd debated whether I should go for a jog and then walk Celsie or the other way around and it suddenly struck me that I could, and should, have been running WITH her. We joined CaniX and have spent many weekends running around Forestry Commission paths with hundreds of other dogs and their owners. We have also been mountain biking with the dogs running free or harnessed safely to the bike and what used to be a solitary struggle to stay reasonable fit has turned into quality time and, with any of the dogs for company, the training has become easier and more fun.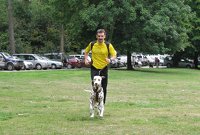 A Constant Companion - As you have no doubt seen from our pages, we tend to talk about how each of our Dalmatians has chosen us, and about how we belong to them rather than the other way around. This isn't just cute words for a website, it genuinely seems to be the way that a Dalmatians sees the world - they have adopted you and they will look after you and do their best to make sure you are happy. This is why they struggle so much with being left alone or being excluded from the family activities. If you want a pet, then get a dog. If you want companion for life to join your family and become an integral part of all of your lives, then get a Dalmatian.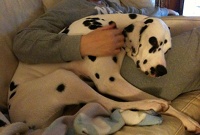 Whatever your reasons for wanting to give a Dalmatian a fresh start, before you make any final decisions, please take some time to view the information on these pages and to contact any of the 3 Dalmatian Breed Clubs, their associated Welfare Societies or us here at Schunikka Dalmatians to talk through your circumstances and discuss the best course of action to determine if bringing a Dalmatian into your home really is the best choice for you and, if so, how to find you the best possible match.
Information about the Adoption Process
As you can see, there are many challenges that might deter a would-be Dalmatian owner from taking one of these demanding dogs into their home.
If however, you have decided that you would definitely like to welcome a Dalmatian into your lives, then this is the process that will be followed:-
Step 1
You call the Adoption Line on 07976 360468 leaving a message that you would like to adopt and giving your contact phone number.
_________________________________________________________________________
Step 2
The Adoption Coordinator will call you back and take some brief details about you over the phone.
_________________________________________________________________________
Step 3
The Adoption Coordinator will send you a Prospective Adopter Questionnaire form to complete, either in the external mail or via e-mail. Please return this to the Adoption Coordinator, their address will be on the bottom of the form.
_________________________________________________________________________
Step 4
The Adoption Coordinator will contact a British Dalmatian Club member or one of our Welfare Volunteers who lives locally to you and arrange a home check. The Home Checker will make an appointment with you to come and meet with you and your family about having a dog.
_________________________________________________________________________
Step 5
Once they have met with you, they will feed back to the Adoption Coordinator about their visit and what they agreed with you would be the most suitable dog profile for you to adopt.
_________________________________________________________________________
Step 6
The Adoption Coordinator then sends your completed form and the Home Checker's comments to the Central Coordinator - this is the person who knows most about the dogs that are in need of a new home.
_________________________________________________________________________
Step 7
If a dog that is suitable for your family is now assessed and ready for rehoming then the Central Coordinator will call you to discuss the dog and it's background. The Central Coordinator is on 07905 495084, leave a message on this service if you wish to express an interest in a particular dog. Check the website "Dogs Waiting" section for dogs that are being rehomed. Note - we do not offer a dog for rehoming until it has been assessed by a British Dalmatian Club member or one of our Welfare Volunteers, nor do we offer a dog to anyone who has not been home checked.
_________________________________________________________________________
Step 8
Once you have agreed on a particular dog to adopt, the Central Coordinator will contact our Transport Coordinator, he/she will arrange for the most convenient dates and times for the dog to be moved to you. If you have your own transport you may be asked to meet someone part of the way to take the dog from them.
_________________________________________________________________________
Step 9
In the meantime, the Central Coordinator will have sent you some information about the adoption process, an Adoption Contract and some other documentation in the post in readiness for your dog's arrival.
_________________________________________________________________________