Whatever changes take place and whatever challenges are faced - there can be happy endings!
Here are a few of the success stories from the great work that the Welfare Services do, day after day, to help our spotty friends:-
_________________________________________________________________________
Zonnie - rehomed by the British Dalmatian Club Welfare team
A year ago I visited Sally who lives in a village with her 6 year old son, Harry. Although they hadn't had a dog before, I felt she had lots of warmth, love and time for a dog that hadn't been so lucky previously - ideal for a timid or slightly nervous dog that would really thrive in this happy house. This liver bitch was frighteningly thin, and new owners could be daunted at the prospect of a dog who clearly hadn't been fed and might have dietary issues initially. When we arrived at Sally's, she threw open the front door and emotionally said 'I can't believe you're going to let me have such a beautiful girl'. Although the dog was scared at first, she soon became attached to Sally and Harry. Harry decided he would help by camping out on the living room floor for the first few nights, so the dog wouldn't be frightened.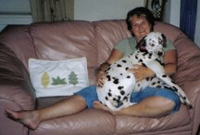 We spoke regularly over the coming weeks, and it was soon clear that they were forming a great bond. Harry called his new friend Zonnie, and how bonnie she now is. When I visited three months later, Zonnie has put on weight and has a glossy coat. Her eyes sparkle and she is obviously very comfortable in her new home. She's been to the woods, fields, lakes and the beach, and is almost inseperable from Sally and Harry.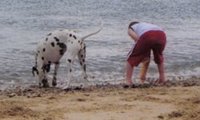 When I thank Sally, she looks astonished and talks about the huge difference Zonnie has made to their lives. I know Zonnie would wag her tail too.
_________________________________________________________________________
Trenton - rehomed by the North of England Dalmatian Club Welfare team
You know its not going to be good when the Dog Warden calls you and tells you a Dalmatian has been pulled out of the River Trent, and is languishing on Death Row at a local Dog Pound, so you get in the car and you drive over and your worst fears are confirmed when you meet him. Barely able to stand or walk, he wonÕt look you in the eyes because he has lost total faith in humans. Unable to stand to eat, he has barely managed to preserve his dignity by dragging himself outdoors for a toilet break. So we looked at him, all his lumps and bumps and his back end shaking as he just wants to get back in his kennel and lie down on a blanket.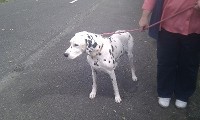 Back to the house and to discuss whether or not he can fit in to our pack with Ben and Poppy, they have seen many Welfare dogs come and go from puppies to grand old ladies, but how will this guy manage with his inability to stand. We take him to the Vet and she confirms that he is at least fourteen years old, but none of the lumps seem serious, so just why did he end up in the Trent, all they had to do was tie him up outside a Vets or the pound, we would have got him anyway.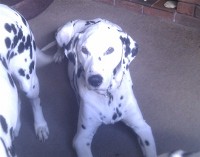 Now three months on he is a different dog, bright beautiful eyes and a magnificent head, broad of shoulder but filling out nicely at the back end, running down the garden to the gate on his way for a walk and sizing up to Ben, then falling over when he is challenged. He has to supervise the opening of the oven, and patrol the kitchen continuously. But watch your fingers when there is a bit of toast about, or a biscuit, lightening fast and with jaws that clang together, you develop lightening reactions. How long will he be with us, who knows, but he looks you straight in the eyes now and likes nothing better than a knuckle ear rub, moaning with pleasure, he sleeps a lot now, but when he goes to the Rainbow Bridge it will be with dignity, knowing that someone loves him.
_________________________________________________________________________
Holly - rehomed by the British Dalmatian Club Welfare team
Holly is a 1 year old bitch whose owner was out at work for a lot of the time, leaving her on her own. He realised that this was not fair on her and reluctantly asked us to rehome her. She was rehomed with a young family who have two young boys.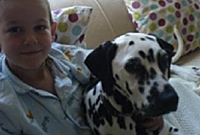 The new owner writes "Holly has settled in fantastically, she gets lots of exercise and has two lads to fuss over her, as well as me and my wife. She is eating well, not quite eating us out of house and home, although she has had a few goes at eating bits of our house and home! We live minutes from the seafront so she gets lots of walks by the sea. We were allowed on the beach as of October 1st, so she has been playing in the sand and running away from the tide. Holly also has had lots of fun playing with other dogs in nearby parks. She has such a lovely nature and will play for hours given the chance. It must have been heartbreaking for the previous owner to have to give her up, but please let him know that Holly is being well looked after and we all love her very much. Please feel free to use the photo on your website. Keep up the good work".
_________________________________________________________________________
Daisy - rehomed by the British Dalmatian Club Welfare team
We adopted Daisy in June 2009 throught Welfare and she bought us a huge amount of pleasure in that time. Her previous owners had quoted the reason they could no longer care for Daisy as the addition of a young family. So when we discovered that we were expecting our first child last year, we did wonder how Daisy might cope with a baby in the house. After doing a bit of reading on the subject of dogs and babies, we started to leave some baby items around our home for Daisy to sniff and get used to. Also, I did a couple of practice runs out with the empty buggy and Daisy on the lead ... felt a bit of a fool initially, but it worked a treat and soon had her walking well ... even though her usual lead walking skills are not great!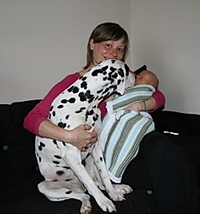 When our son, Ewan, arrived in early March 2010 we introduced the two of them without any great fuss and have made sure that Daisy still gets lots of play and cuddle time in the evenings, which she has always had, to prevent any jealousy ........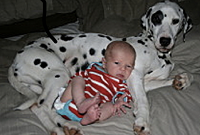 And the result is a very chilled out friendship between Ewan and Daisy........ I think the picture here shows that beautifully!! Thanks again for the great work you do in ensuring the right dogs and owners are matched. Daisy and the Dalmatians we've had in the past have made fantastic family members and have certainly enriched our lives.
_________________________________________________________________________
Max - rehomed by the North of England Dalmatian Club Welfare team
"Please find enclosed some pictures of Max with his new friend Kimmy for you to forward to the previous owners. Apologies for the delay, you know what it's like. Max has settled in now, unfortunately still chewing occasionally. He has got to the point of enjoying his countryside walks OFF the lead now so he and Kimmy can run for miles."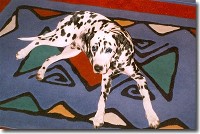 "He goes on the beach too, not to mention the pair of them turning my hair white when they run through the kitchen with eight muddy paws between them. He has had his "Operation" which has calmed him considerably and I don't think losing his manhood upset him too much, shame I can't send Trevor really!!"
_________________________________________________________________________
Zena - rehomed by the British Dalmatian Club Welfare team
Zena is a 6 year old bitch who had lived with her previous owner since she was a puppy. Her owner was out at work all day, leaving her on her own and she felt it was unfair to her. Zena was moved from Nottingham to Surrey, to a new family who already had a male spaniel and 2 cats! She took quite a while settling in - about 3 months in all, particularly with the cats which she used to chase. Zena also had a go at the resident dog, as well as others she met when out. She was therefore muzzled for a while to prevent her doing anything silly, until she got used to meeting other dogs and having lots of good experiences when meeting them.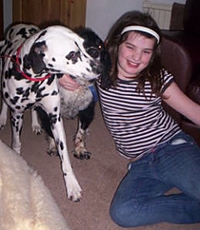 Her new owners have persevered and now she has finally settled into her new home, with all the changes that brings. Zena, like many dogs we have through rescue, had got out of the habit of going out for walks, meeting dogs, people and just generally doing things that normal dogs do. Many dogs are not taken out at all for months, by their previous owners, so they just forget about being a normal dog, and the sort of behaviour that is required of them, in both ours and dog society. It's thanks to adoptive families, like Zena's, who give their time and patience, that our rehomed dogs eventually settle down and have a lovely new life."
_________________________________________________________________________
Joey - rehomed by the British Dalmatian Club Welfare team
Joey and another Dalmatian, a Bitch called Sasha had to be rehomed due to a relationship break up. The Lady owner was leaving them on their own for long periods of time, because she was out at work all day. She felt they deserved a more interesting life and reluctantly asked us to rehome them both. Sasha went to a different family and we hope to feature an update on her new life soon.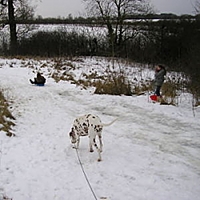 This is an update received a month after Joey had been in his new home. "Hi. Well Joey is fantastic, he has really become one of the family. Joey is the perfect dog and is a typical Dalmatian, active, loving, a great companion, very boisterous and needs lots of exercise. Joey has us out three times a day, which is perfect for us because there is always someone to take him out. We went to the Vet to have his booster done and he was fine there also. I now let him off the lead and his recall is getting good".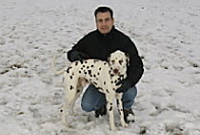 _________________________________________________________________________